| | |
| --- | --- |
| GROSS CAPACITY | 660 MW, Super Critical, (SINGLE UNIT) FIRST PHASE TO BE FOLLOWED BY ANOTHER 660 MW IN SECOND PHASE |
| AUXILIARY CONSUMPTION | 6.0% |
| NET CAPACITY | 620.4 MW– FIRST PHASE |
| HEAT RATE- GROSS | 2204 K.CAL/KWH |
| STEAM GENERATOR– SINGLE | PULVERISED COAL, ONCE THROUGH TWO- PASS DESIGN, RADIANT, SINGLE REHEAT, BALANCED DRAFT, SEMI-OUTDOOR TYPE. SG WILL BE RATED TO DELIVER 2078 T/HR OF SUPERHEATED STEAM AT 245.6 BAR (A), 567°C WITH FEED WATER AT A TEMPERATURE OF 298.6°C AT THE ECONOMISER INLET. THE REHEAT STEAM TEMPERATURE WOULD BE 593°C |
| TURBINE– SINGLE | SINGLE SHAFT, MULTI CYLINDER 3000 RPM TURBINE WITH WATER COOLED CONDENSER , ASSOCIATED REGENERATIVE EQUIPMENT FOR MAXIMISING THE EFFICENCY . |
FUEL LINKAGE & HANDLING SYSTEM
• It has been proposed to receive the coal at an established Port– New Mangalore Port Trust, near Mangalore.
• From Mangalore port- coal would be transhipped to the Plant boundary through Mangalore- Hassan Railway network.
COAL HANDLING SYSTEM
• The daily requirement of coal for the 1×660 MW units for Imported coal would be 7128 tonnes at 100 % MCR.
• Coal will be received in the plant by rail wagons.
• On an average 2.2 rakes will be needed everyday- hence including bunching, 3.3 rakes every day has been proposed.
• The nearest railway station for this plant is Hassan which is about 10 km away.
• The rail line for this new plant can be looped from Mangalore- Hassan line.
WATER SYSTEM
| | |
| --- | --- |
| Source of water | From Sriramdevara Anicut in the downstream of Gorur dam built across river Hemavathy. |
| Distance from the power plant site | Location of water intake point has been identified approximately at the distance of 22 km from the site. |
| Method of drawal | Through suitable intake structure & pumping system. |
| Average daily quantity of Water required for 1×660 MW | 46800 m3/day. |
| Type of cooling system used | Closed cooling system with Induced Draft Cooling Tower. |
PROJECT CONNECTIVITY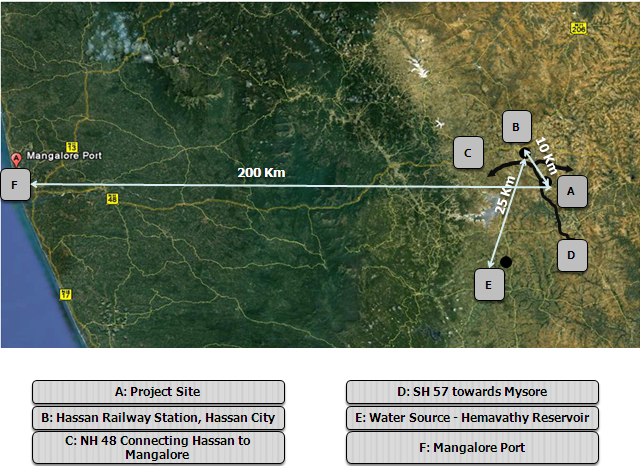 ENVIRONMENT CLEARANCES & PRESS NOTICES